Ref# FSRE11500
Railroad Equipment For Sale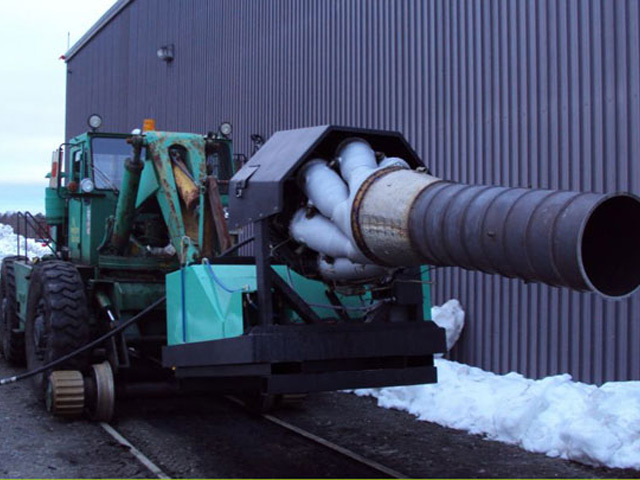 (2) GW502 Jet Blowers
In perfect running condition
Year: 2009
Width: 50.5in
Length: 11ft
Height: 61in
Weight: Depending on final configuration
Empty: 2300lbs +/- 50#
Full: 3850lbs +/- 50#
210 gallons
Fuel: #1 diesel
#1 kerosene
Engine
M 701c-500
Single Shaft
Centrifugal Turbojet
Dimensions:
Max width: 36in
Max height: 37in
Length: 82in
Weight-dry: 728lbs
Performance Ratings (Aircraft configuration)
Max TO: 1962lb
Rated power: 1764lb
Max cruise rating: 1587
Idling: 154lb
Starting system
24 V Electric Start
Automatic Start System
Oil System – Wet sump at bottom of front case
4 qts. capacity
Oil Consumption: Max .528qt. per hour
Oil Type: Royco 481
Mil: PRF 6081D
Grade: 1010
Engine Petro Base
This is the only oil to be used in this engine
Electrical System
2 – 12 V batteries in series for a total of 24 V
28 V generator
Fuel System
210 gallon fuel tank, with electric fuel quantity transmitter.
Spin on main fuel filter, with replaceable elements.
Fuel pump assembly consists of fuel filter, pump, and bypass valve.
Fuel Consumption
Approximately 80 to 100 gallons per hour
The unit's frame is coated with a Tuff Coat material (black).
Fuel tank can be painted whatever colour you want.
Unit is equipped with a protective screen over the intake.
This unit can be picked up from the back or side with a forklift; also with a sling from above.
Price: $66,000 each
Location: Canada






For more information about this listing
Please call 512-263-1953

Ask to speak with Garrett Crouch
or email gcrouch@sterlingrail.com