Ref# FSC23614
Caboose Rail Cars For Sale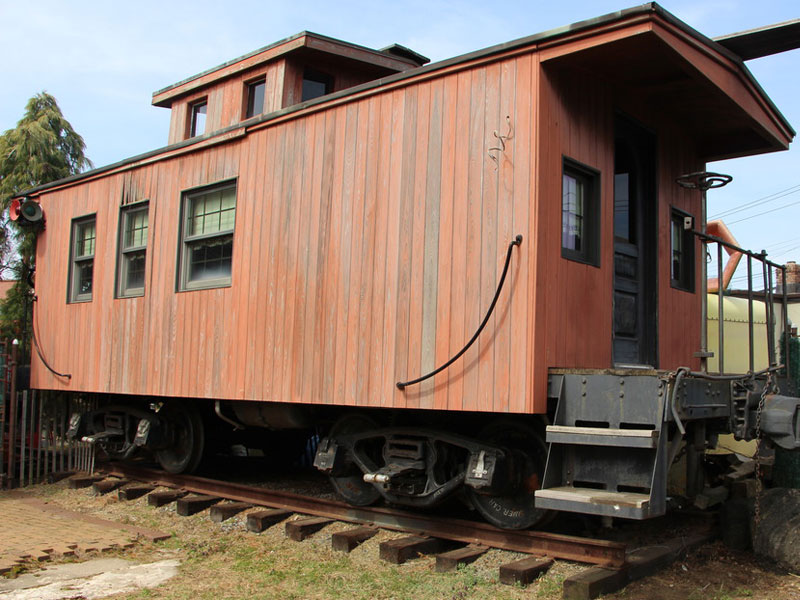 1923 B & O Caboose - Fully renovated
If you're looking for a caboose to use as a guest house, tiny home, Bed and Breakfast, or private retreat, look no further. This is B & O caboose No. C-498, built in 1923 (all wood). It was purchased from B & O in 1975 in Indiana. Over the next several years it was completely remodeled into a charming guest house. In 1979 it was purchased by the present owner and relocated to its current location. Both ownership transfers are fully documented and available for review. The hand woodwork found inside blends the nostalgia of the train era with the luxurious details of a custom retreat. Amenities include:
• Custom woodwork from floor-to-ceiling, including the ceiling.
• Full working bath including lavatory, toilet, stall shower, and electric hot water heater.
• Baseboard heat
• Air conditioning
• Cable Television
• Custom light fixtures throughout including chandelier
• Custom window treatments
• Beveled glass doors
• Hand-built custom wood cupola
The custom exterior woodwork is due for some minor repair, restaining and resealing, or could be removed and restored to the original exterior if desired. Clearly the main draw if this 96 year old piece of history is the exquisite interior renovation.
The caboose sits on the correct wheels and trucks, and is on 60 ' of track and ties. Only a welded wheel stop keeps this caboose from rolling down the track as it did almost 100 years ago. All tracks and ties are included in the sale if desired.
Dimensions and specifications are on the attached plans from the B & O mechanical department.
The caboose currently resides on the south shore of Long Island. The caboose sits toward the rear of a residential lot, in close proximity to the residence itself. There is access for rigging and loading via an adjacent commercial property. The caboose and site are available for review for serious inquiries.
The caboose and all contents and peripherals are for sale as-is, with no warranties offered or implied.
Full purchase price is due at agreement of sale. As a condition of the sale, the buyer agrees to move the caboose and all related items within 60 days of the consummation of the sale, and at the buyer's cost.
This is a rare and special piece of history. A caboose refinished to this quality rarely if ever comes up for sale. This is an opportunity to buy something truly special.
Price: $75,000
Location: Oceanside, New York
Check out the eBay listing!
Interested? Contact Mark Adams Today
Listing Attachments:

CarDrawing.pdf
For more information about this listing
Please call 512-263-1953
Ask to speak with a Sales Representative
or email info@sterlingrail.com