Ref# FSM27312
Misc. For Sale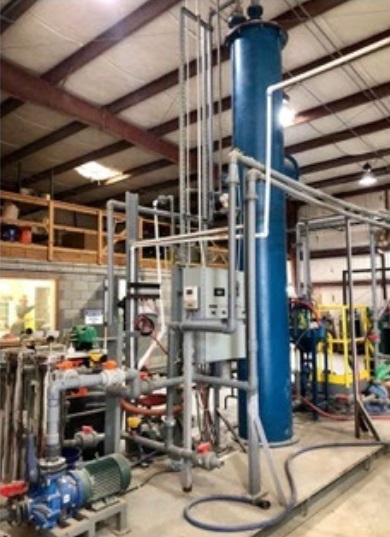 MERRILL CROWE PLANT (100 GPM) REFINERY GOLD PROCESSOR
NEW COST IS OVER $600,000.00
REFURBISHED 6 MONTHS AGO.--READY TO GO TO WORK
CURRENTLY AT A REFINING SITE IN NEVADA INSIDE A CLOSED FACILITY THAT HAS PLENTY OF EASY ACCESS TO REMOVE AND HAUL OUT WITH LOADING ASSISTANCE
Merrill Crowe Process Basics
1. The zinc, cyanide and gold ore are mixed
2. The gold has an affinity to the zinc and cyanide particles and forms deposits on the surface of the zinc
3. The zinc and gold particles are then filtered out using a filter press that has precoat of diatomaceous earth or perlite

The Merrill–Crowe Process is a separation technique for removing gold from the solution obtained by the cyanide leaching of gold ores. It is an improvement of the MacArthur-Forrest process, where an additional vacuum is managed to remove air in the solution (invention of Crowe), and zinc dust is used instead of zinc shavings (improvement of Merrill).

The solution is separated from the ore by methods such as filtration (e.g. vertical leaf type clarifier filters) and counter current decantation (CCD). Afterwards a very clear solution is achieved by using pre-coated filters applying diatomaceous earth. Oxygen is then removed by passing the solution through a vacuum de-aeration column. Zinc dust is added to the clarified, de-aerated solution which precipitates the gold; zinc having a higher affinity for the cyanide ion than gold. Other precious metals, silver, and base metals, like copper, will also precipitate, if present.

Automated membrane filtration offers a cost savings alternative to CCD.

The gold precipitate (mixed with zinc dust) is then filtered out of the solution, and the zinc dust and gold are mixed with sulfuric acid to dissolve the zinc. The solution is filtered, and the remaining solids are smelted to a gold dore bar. These bars are sent to a refinery to remove the copper and silver, the specific process used depending upon the impurities in the gold.

The basic process was discovered and patented by Charles Washington Merrill around 1900, and later refined by Thomas Bennett Crowe, working for the Merrill Company.

TOP OF THE LINE SET-UP.
USED FOR AROUND 6 MONTHS SINCE INSTALL ON A FEW TEST RUNS, LESS THAN 100 HOURS USE.
Merrill Crowe Plant (100 gpm)
- Major Components:
- 4000 gal capacity plastic feed tank
- One 1 micron and one 5 micron ss filtration bag housing units
- 15 ft tall vacuum resin tower
- SIHI LEM 110 vacuum pump with closed water recirculation system
- lnsite IG Model 1 OT dissolved oxygen meter with Analyzer
- Rosemount Clarity II T1056 turbidity meter
- Mitsubishi Inverter FR-D700 VFD on main process pumps
- Zinc feeder with KCN controller and Babitt Dual Point Level Switch LS 7000
- Zinc tank stirrer
- Manual zinc feeder
- Twin Gould HT 3196 i-Frame process pumps
- Two Siemens J-Press 630 mm filter press set in parallel
- Associated valves, piping, fittings, hose connections
- Model SSH-C Xylem tailings pump
• Installed a Rosemount Clarity JJ T1056 Turbidity meter
• Installed a VFD (Mitsubishi Inverter FR-D700) on main process pump
• Installed a lnsite IG Model 10T Dissolved Oxygen meter with a Single
Channel Analyzer
• Installed multi-voltage Plast-O-Matic EBVA2 actuators
• Installed a sight level system for the vacuum tower using stainless steel valves, fittings and high strength vacuum plastic tubing
Shown below are repairs, alterations, enhancements and additions made to the Merrill Crowe Plant purchased six months ago in order to place the unit into commercial operations. The total cost for parts and supplies were estimated to be $60,000 not including labor.
• Disassembled and cleaned all valves
• Coated all valve seals with Dow Corning vacuum lubricant
• Disassembled, cleaned, refurbished and aligned the two Goulds Model 3196 process pumps and replaced hydraulic oil with Mobil DTE 26 ISO 68
• Disassembled, cleaned, refurbished and aligned a Model SSH-C Xylem tailings pump
• Installed a cooling water closed recirculation system for the SIHI LEM 110 Series vacuum pump
• Repaired piping and replaced many valves to the Siemens J-Press 630 mm Filter Press
• Replaced filter press plates, seals and collection filters
• Replaced vacuum tower top gasket
• Installed a bag filter on zinc powder feed hopper
• Repaired Babbitt Dual Point Level Switch LS 7000 and installed solenoid air control valve for zinc feed mixing tank
• Installed a DC motor speed controller on the zinc screw feeder
• Installed a mixing paddle automatic on/off switch with solenoid air control valve for zinc for zinc feed mixing tank
• Installed a DC motor speed controller on the zinc screw feeder
• Installed a mixing paddle automatic on/off switch with solenoid air control valve for zinc feed mixing tank
• Installed line from process pump discharge for make-up fluid into the zinc slurry tank
• Installed new pressure gauges to monitor the vacuum, inlet and outlet pressures
• Installed new water meters to accurately measure fluid flow
• Replaced the two existing Triton II residential sand filter with stainless steel housed 5 micron and 1 micron bag filters placed in series. Two boxes of spare filters in stock
• Replaced and rerouted existing piping with CPVC to have a more efficient configuration
• Replaced and installed new CPVC check and ball valves, piping, and fittings
• Repaired leaks by replacing parts and structural adhesive waterproof epoxy
• Installed piping and valves to flush out plant fluids into waste tank or to recirculate into primary fluid storage tank
• Installed valves and discharge port to allow use of compressed air to blow down filter press fluids for cleaning
Price: contact
Location: NV






For more information about this listing
Please call 512-263-1953

Ask to speak with Garrett Crouch
or email gcrouch@sterlingrail.com